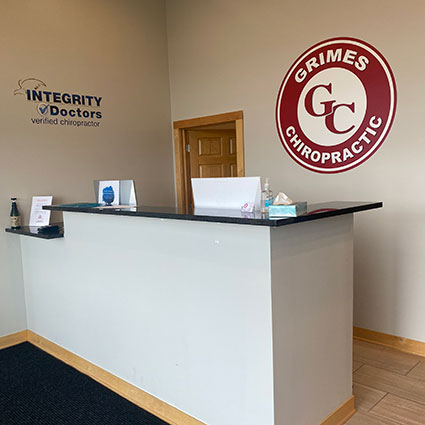 New Patients at
Grimes Chiropractic
Getting started with care at Grimes Chiropractic is convenient—our paperwork is available for you to complete online at home, to save you time at your appointment. We are in-network with most insurance, so be sure to bring your insurance card.
Plan on about 30-45 minutes for your first appointment, which will include an orientation video, a consultation with Dr. Barkalow, a thorough exam and X-rays. During your consultation, we will discuss your overall health history, as well as your current concerns and goals. We want to have a clear picture of what your condition is preventing you from enjoying in life, so we can design a care plan tailored to meet your individual goals.
We generally X-ray every patient, unless there is a reason not to. We find that X-rays are a very inexpensive and valuable tool to help us pinpoint specific problems.
Before your next appointment, Dr. Barkalow will create a care plan for you.
We'll review what we discussed at your first appointment, and then the doctor will explain why you're having discomfort, correlating your symptoms with your X-rays so you can see the cause of your problem. He'll explain how our care can help, as well as the costs. If you're ready to begin your treatment plan, we'll schedule those visits for you. You'll also get adjusted at this visit, and you may receive other therapies, depending on your needs.
We Truly Value You
We greet all our patients by name, with a warm smile and genuine appreciation for the opportunity to provide you care. We have a no-wait policy, and we strive to balance our genuine compassion and concern with an efficient approach to care, so we never waste your time. If you don't respond to our care, we won't just keep treating you—we'll help you find the right kind of provider for your condition. We value your time, your health and YOU.
Contact us today to schedule your first appointment.
CONTACT US »
---
New Patients at Grimes Chiropractic | (515) 695-7273