Chiropractic Care
Chiropractic is holistic, functional-based care, focused on the natural well-being and optimal health of our patients. Keeping your spine and nervous system healthy is key to overall health.
Why Do I Need Chiropractic?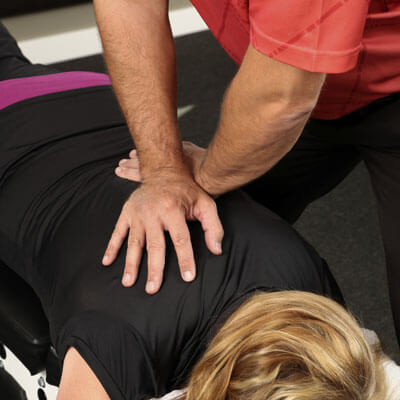 Stress, tension, or pinching of nerves in the neck or back can cause problems in the body. Whether a disc, joint or ligaments passing through the "nerve window," tension is placed on the nerve. At Grimes Chiropractic, our goal is to remove any nerve interference.
After reviewing results from your exam, X-rays and scans, we use a manual adjustment to realign vertebrae and remove the nerve interference. Once relieved, the body can heal itself; continued care helps keep the problem from returning.
NEW PATIENTS »

Results You Can See and Feel
Following their unique care plan, patients can expect better mobility, increased range of motion and flexibility, enhanced sports performance, and ease in completing daily activities. Our patients know there are no quick fixes. It takes time and repetition for any skeletal muscle to heal and strengthen to provide stability in the spine.
When pain has been relieved, continuing with adjustments ensures no new conditions have popped up, and helps alleviate some of the daily wear and tear on your body.
Restoring Health With Focused Care
Our patients have seen improvements with
Headaches and migraines
Neck pain
Low and mid back pain
Vertigo
Numbness or tingling in the arms or legs
TMJ
Torticollis
Disc issues
Arthritis
Sciatica
Carpal tunnel
Strains and sprains
Sports performance
Pregnancy issues
Pediatric issues
Tool and Techniques
Like all Palmer College of Chiropractic graduates, Dr. Barkalow is highly skilled in many chiropractic techniques. These include Diversified, the most used manual manipulation technique, Thompson Drop Table, Gonstead, and others. He also does a lot of extremity adjustments and rehabilitation exercises. For children and seniors, the Activator® tool is a very gentle method of providing a low-force adjustment.
Discover What Chiropractic Can Do for You!
Better health and wellness can be yours; don't wait any longer. Contact our office to get started.
CONTACT US »
---
Chiropractic Care | (515) 695-7273