Meet Dr. Max Barkalow
Discover Natural Health Care in Grimes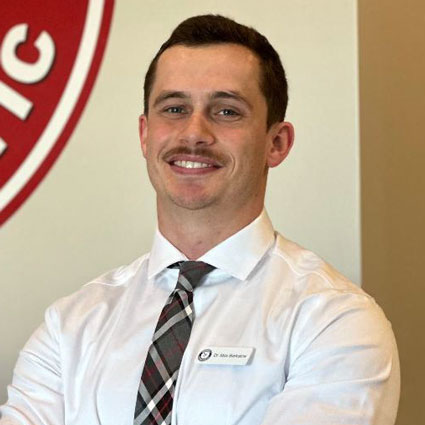 Grimes chiropractor Dr. Max Barkalow is originally from a small town in Illinois but began living in Iowa in 2015. Falling in love with the community, he knew he wanted to give back to the Des Moines area by providing natural health care to its residents. He runs Grimes Chiropractic with a caring spirit, a deep commitment to his patients and integrity in his actions. We want you to know that you've come to the right place for healing.
Shifting the Community's Mindset
Dr. Barkalow's mission is to change the lives of his community through preventative wellness care. Moving away from prescription drugs, opioids, and surgery to natural and holistic chiropractic care can provide the relief patients need and deserve. Continued care increases the benefits possible, leading to optimal health.
Discovering Chiropractic
Dr. Barkalow has aspired to help others throughout his entire life and has always had a passion for human anatomy, health and wellness, and nutrition. Leaving his home state of Illinois, Dr. Barkalow ventured into Iowa to attend Central College in Pella, Iowa, where he participated in the football program and received his Bachelor of Science in Kinesiology.
While attending Central College, he had a unique opportunity to intern with a chiropractor. There, Dr. Barkalow was able to witness firsthand just how impactful chiropractic can be for the health and wellbeing of a community. He was so inspired by his experience that he knew he had found his calling. Dr. Barkalow now hopes to serve his community by way of sharing chiropractic.
Our Approach
Dr. Barkalow attended Palmer College of Chiropractic, earning his doctorate in chiropractic in 2022. While enrolled, he became proficient in multiple adjusting techniques involving the spine as well as upper and lower extremities. He has worked in various clinical settings since 2021, treating a myriad of different conditions and complications. In total, Dr. Barkalow has had the opportunity to work directly under and learn from eight different practitioners in multiple settings; this gives him a very specialized, well-rounded perspective in the clinic.
Our clinic focuses on family care as well as injuries involving: low back pain, neck and shoulder pain, and headaches. We also support patients in living a more active lifestyle without pain through nutritional counseling and exercises. Dr. Barkalow is an active member of the community, regularly participating in corporate wellness programs and health fairs and speaking on several health-related topics.
Away From the Office
When he isn't seeing patients, Dr. Barkalow spends most of his spare time training for a fitness event, golfing with his close friends, or enjoying a quiet stroll down a hiking trail. He is still new to the area and would love to hear your food/restaurant suggestions!
Book Today
Contact us today to book your first appointment.
---
Dr. Max Barkalow | (515) 695-7273