Meet Dr. Jesse Stumbaugh
(Not accepting new patients)
Discovering Chiropractic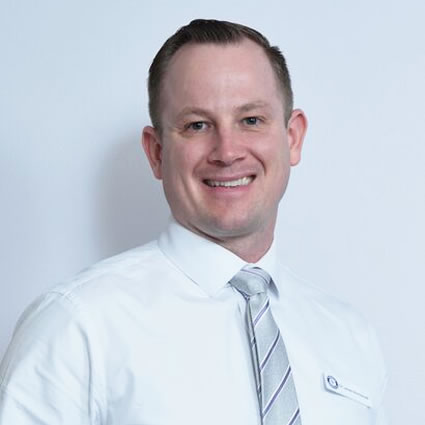 Dr. Stumbaugh's motivation to become a chiropractor stemmed from personal experience. He grew up on an Air Force base in Texas and suffered a neck injury playing high school football. The base doctors prescribed ibuprofen and rest, but that didn't help—he still couldn't turn his neck.
Dr. Stumbaugh's father finally decided to take him to his own chiropractor, who got him moving and back in the game after just a few adjustments. Dr. Stumbaugh was relieved and grateful—and also frustrated that his parents didn't know to try chiropractic first. He knew then that he wanted to help people, as well as educate them that chiropractic should be a first resort, not a last resort.
Our Approach
Dr. Stumbaugh attended Palmer College of Chiropractic, earning his Doctor of Chiropractic in 2004. He has practiced in the Des Moines area since 2005 and has owned and operated Grimes Chiropractic since 2006. During that time, Dr. Stumbaugh has worked as the official team chiropractor for several professional athletic organizations, including the Iowa Stars and Iowa Chops AHL hockey teams, and is currently the team chiropractor for the Iowa Barnstormers.
We focus on family care as well as sports injuries, with low back pain, neck pain and headaches being the most common conditions treated. We also support patients in living a more active lifestyle without pain through nutritional counseling and exercises. Dr. Stumbaugh regularly participates in corporate wellness programs and health fairs, and speaks on a number of health-related topics.
We Love Transformations
We know patients have a myriad of options available to them in terms of healthcare, so we are truly honored when a patient chooses us. Many times, chiropractic is their last resort and almost every day, we see patients who started our care feeling angry, depressed and frustrated about their condition transform into people who feel happy, healthy and pain-free.
EXPLORE CHIROPRACTIC
Away from the Office
In his spare time, Dr. Stumbaugh enjoys spending time outdoors with his wife, attending their kids' sporting events, hunting and exercising.
Book Today
Contact us today to book your first appointment.
---
Dr. Jesse Stumbaugh | (515) 695-7273