Meet Dr. Nathan Halverson
A Heart for Helping
Caring for others was the number one factor that really pushed Dr. Halverson into the healthcare field. His passion for sports and the well-being of athletes and individuals, which stemmed from his wrestling days, drove him to find a career path that would help others reach their optimal wellness state and perform at their peak potential.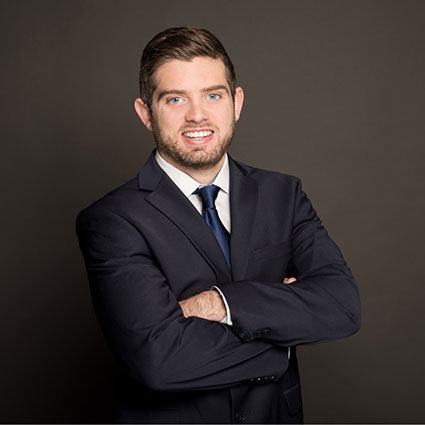 Choosing Chiropractic
While completing his Bachelor of Science in Biology at the University of Northern Iowa, Dr. Halverson contemplated between dentistry or chiropractic. He ultimately chose chiropractic due to the ability to treat and maintain a patient's overall wellness, rather than just their oral health.
Another major factor that played into Dr. Halverson's decision to become a chiropractor was the ability to locate the root cause of a patient's illness/pain and address the underlying issue using natural, non-invasive techniques, rather than supplying patients with a bottle of medication to mask their symptoms.
EXPLORE CHIROPRACTIC »

Along with making sure all his patients are well adjusted, Dr. Halverson enjoys spending time with his family and wife (Leah), being active outdoors and rooting for the Iowa Hawkeyes!
Growing up on a farm in Fort Dodge, Iowa created a perfect environment for enjoying the outdoors, being responsible for the well-being of the animals, and learning what hard work was at an early age.
Dr. Halverson also was involved in wrestling from the time he was 5 years old until his senior year of high school, where he was a four-time varsity letter winner, three-time state qualifier, and took fifth place at the prestigious Iowa High School State Tournament his senior year at Fort Dodge Senior High.
Dr. Halverson and his wife's family roots run deep in the state of Iowa. They both were born and raised in Fort Dodge and most of Dr. Halverson's family still lives there. Their goal was to move to Chicago after school while they were both still young, and enjoy the sights and sounds that the Windy City had to offer.
They had always known that they wanted to live closer to their families once the time was right to settle down and start a family. Once they decided to move back to Iowa, they wanted to find a place that was growing and would continue to grow, which led them to the West Des Moines area. Along with the growth factor of West Des Moines, his wife's family is all located in the West Des Moines area now, and it is only a quick drive up to Fort Dodge for a weekend with family.
Dr. Halverson was trained at the "Fountain Head of Chiropractic" (Palmer College of Chiropractic), so he is fully trained and experienced in the adjusting procedures. With his three years of experience as the lead chiropractor at a sports injury and family wellness clinic in Chicago, and two years at Norwalk Chiropractic, Dr. Halverson will bring with him an abundance of knowledge and skills in not only chiropractic adjusting techniques, but also rehabilitation methods.
During his time in Chicago and at Norwalk Chiropractic, he treated many conditions, from headaches and low back pain to rehabilitating athletes' sprains, strains and ligament tears. Dr. Halverson also brings with him the ability and experience of treating everyone, from toddlers to geriatrics, and soccer moms to professional athletes.
Find Out More
Contact our office to discover how chiropractic can benefit you. Call today; (515) 695-7273.
---
Dr. Nathan Halverson | (515) 695-7273